US Army Corps Alterations and Repairs to Building 1495 HAZMAT Facility in Fort Belvoir, Virginia
This project was for the design and build-out of historical Building 1495 HAZMAT Facility in Fort Belvoir, Virginia. The work included the removal and replacement of the existing metal sheathing, metal wall panels, the replacement of existing windows and the installation of high efficiency heat pump systems. 
The project Exterior work included the removal of all existing sheathing including louvers on west side of facility; replacement of existing exterior metal wall panels; replacement of existing windows and replacement of one double door on east side with new window. All windows were to be double pane, argon gas filled, with low-e coating. The exterior work also included the replacement of exterior entry doors / frames; replacement of roll up doors / frames; replacement of gutters and downspouts; provided exterior LED facility lighting (wallpacks) with auto sensors and programmable time clocks. 
Site work included the installation of new automatic perimeter entry gate the end of perimeter fence and the installation of a culvert, suitable fill and asphalt to create new entry to facility. 
Interior Demolition consisted of the removal of all existing equipment including oil boiler, air handler, existing duct system, exterior air condition unit, warehouse space heaters and controls and the disconnection of the heating oil tank. The interior demolition work also included the removal of existing drop ceilings, light fixtures, wall finishes, and floor finishes in the administration portion of the facility. 
The HVAC work included the installation of high efficiency heat pump system with associated duct work for administrative area. Meltech provided new unit heaters in warehouse. New system was installed in compliance with NFPA 30 for use in a HAZMAT Facility. Meltech coordinated this work with the Washington Gas Company for the extension of the gas line to the building and any associated work. We air sealed the mechanical room, exhaust duct / fan with duct mastic to eliminate air leakage into the administration area and completed the replacement of two exhaust fans in the warehouse. 
Fire Alarm/Suppression System work included the installation of new addressable fire alarm system and modification to existing water sprinkler system to provide coverage of administrative area. The work also included the installation of new foam based system suitable for hazardous material storage facility for coverage of warehouse portion of facility. 
Electrical work consisted of the assessment of all electrical service panels for capacity to receive new load from HVAC equipment and provide sufficient space capacity. Panel repairs and wiring completed where needed. Work also included the replacement of electrical outlets and switches in warehouse with fixtures compliant with NFPA 70 class 1 Division 2 Material Storage Areas; reconfiguration of electrical outlets and switches according to new floor plans in administrative area; replacement of existing warehouse area fluorescent lights with high efficiency fluorescent fixtures with electronic ballasts and individual motion sensors. Light locations same as existing and the replacement of existing administrative area fluorescent lights with interior LED lights. 
Architectural work consisted of the reconfiguration of interior partitions based on new space plan provided. Final space dimensions were coordinated with end user; exterior wall in administrative space were insulated to the maximum extent possible. Walls furred out where necessary. The work included the replacement of the interior doors/frames; installation of approximately 8 foot base cabinet run in office with sink and laminate countertops. The work also included the replacement of the existing floors with new VCT in the administrative space; painted all administrative area and restroom walls including partition wall with warehouse (both sides) and the replacement of restroom stall partitions and installation of floor ceramic tile. 
Plumbing work included the replacement of all restroom fixtures including toilets, sinks, faucets, urinals and showers and provided the renovation of all restrooms to meet current applicable plumbing and ADA codes. Meltech provided and installed two frost-proof hose bibs to the South and North sides of building and access to the plumbing in bathroom for the potential waste and water connections for sink in the office with sink and laminate countertops. The work was coordinated with end user to for color and material selections. Meltech also provided a single use female restroom with all required plumbing fixtures and accessories. 
Warehouse work included the installation of a perimeter containment system within the warehouse portion of the facility utilizing a 6inch high concrete berm along majority of the facility perimeter, concrete berms in front of the rollup doors, and trench drains in front of access doors; paint the floor coating in entire warehouse area; installation of durable marking tape on the floor to delineate different storage areas of the warehouse; installation of additional eye wash into warehouse area; replacement of rusted sheet metal cladding throughout interior of building. The work included the redesign of the access gate. Meltech provided and installed 80' of commercial grade steel pallet racks inside the warehouse for equipment and material storage, capable of accepting a 4'x4' pallet with 55 gallon drum on bottom and top levels. 
The Communications work included the reconfiguration of communication wiring and data and phone terminals to conform to new floor plans. The work required that a minimum of 8 data / phone terminals. Meltech also installed jumper to wall mounted computer display. We designed cable runs and drop locations and installed cable trays. Meltech purchased and installed prefabricated hazardous storage material containers and placed them outside the building while the renovation was ongoing. The hazardous storage material containers were returned inside the building upon completion of the project. 
Polychlorinated Biphenyl (PCB) Cleanup – The Fort Belvoir Directorate of Public Works (DPW) Environmental and Natural Resources (ENRD) are responsible for ensuring compliance with all applicable environmental regulations. Meltech was required to obtain a DPW Excavation Permit (subsurface utility clearance) from the DPW-Construction Management Division prior to all activities requiring any excavation or other subsurface work. A very large portion of this contract was for remedial work for the Polychlorinated Biphenyl (PCB) cleanup. The affected areas of concrete and soil were returned to original condition. Clean soils were placed into the area, and compacted to 95% ASTM D-698 compaction. New asphalt was placed atop the compacted areas and covered completed to allow vehicles to drive over it. It was required to be strong enough for large, heavy, equipment and trucks to safely drive over. 
Sustainable Design Elements 
The contract had several sustainability design requirements to be met. All mechanical, lighting, windows, roofing systems, wall insulations, utility meters, hot water heaters, interior plumbing fixtures, outdoor water, paint adhesives, and sealants and carpet to meet the current Department of Energy Purchasing Specifications for Energy Efficient Products listed on the Federal Energy Management Program, Sheet Metal and Air Conditioning Contractor's National Association Indoor Air Quality Guidelines for Occupied  Buildings under Construction, 1995, Energy Star or FEJ\1P (Federal Energy Management  Program) ratings, Energy Standard for Buildings except Low-Rise Residential, International Energy Conservation Code, State of Virginia Ia 9 VAC 5-40 Emission Standard for Architectural  and Industrial Maintenance Coating (Rule 4-49) and Carpet and Rug Institute  Green Label program.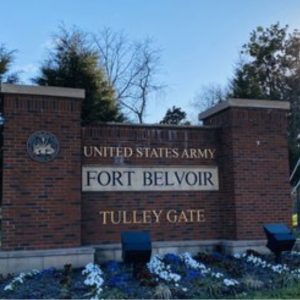 Short description: US Army Corps Alterations and Repairs to Building 1495 HAZMAT Facility in Fort Belvoir, Virginia This project was for the design and build-out of historical Building 1495 HAZMAT Facility in Fort Belvoir, Virginia. The work included the removal and replacement of the existing metal sheathing, metal wall panels, the replacement of existing windows and the […]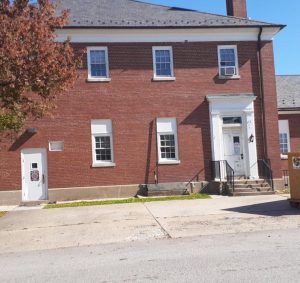 Short description: US Army Fort Belvoir Exterior Rehabilitation of Building 191 Historic South Post Fire Station  The project objective was to design and rehabilitate the exterior of the South Post Fire Station Building 191 located at Fort Belvoir, Virginia. Building 191 serves as an active Fire Station for Fort Belvoir. All repairs were conducted while ensuring that […]