Leidos Biomedical Research Facilities Frederick National Laboratory for Cancer Research Building 1066 Electrical Upgrades at Fort Detrick in Frederick, Maryland
Meltech completed this project for the Leidos Biomedical Research Inc. for the Frederick National Laboratory for Cancer Research in Frederick, Maryland. This project was for electrical upgrades to the Building 1066. Building 1066 was occupied during project construction and a complete shutdown was of the building was not feasible. All power outages were coordinated and scheduled with the Leidos to have a power outage for 1 hour at a time, minimum. This project was to provide redundant power and emergency back-up power to the current system. The project included: Site Construction; Concrete; Thermal and Moisture Protection; Finishes; Electrical.  
Meltech provided the following: 
Electrical Systems
Building 1066 is powered from a 4160V, 3-phase overhead loop service which is transformed down to 120/208V, 3-phase power via existing 500KVA transformer. The transformer connects to a single 208V, 3-phase, 1600A ATS, which feeds main distribution switchboard MSB to serve everything in the building. The existing power infrastructure and distribution switchboard were re-used in conjunction with the new redundant power infrastructure per con-struction documents.
Emergency Power
Emergency back-up power was provided by an existing 400kW, 208/120V, 3-phase, 4-wire diesel generator. The generator connects to a single 208/120V, 3-phase, 4-wire, 1600A ATS, which feeds main distribution switchboard MSB to serve everything in this building via emergency backup power.
New redundant power infrastructure
This included a new 300KVA pad mounted transformer, 1200A enclosed circuit breaker, and a NEMA 3R integrated power center (including switchboard, ATS, MTS, and generator connection box). The project also included (11) eleven double throw switches to be installed for freezer panels. This work required demolition of existing pull boxes, wire, and conduit. Meltech furnished and installed all equipment for a complete system. Each double throw switch was installed one at a time and coordinated with Leidos/users for power outages lasting a maximum of 1 hour each.
Meltech performed all the work required with the coordination and scheduling per Leidos Bio-medical Research, Inc. All power outages were fully coordinated and scheduled for a maximum power outage of 1 hour at a time. Leidos verified that all freezers were operational prior to Mel-tech starting the next double throw switch connection.
Further Details 
The project required site engineering services of a civil engineer or surveyor in the State of Maryland to establish grades, lines and levels. Meltech was responsible for the location of building streets, walkways and major site elements as they apply to this contract. We were also responsible for the establishment of horizontal and vertical controls; installation of control stakes as required; and the final certification that finish grades were completed within the tolerances specified. Use of instruments to establish benchmarks on the site. Meltech referenced the benchmarks to data established by survey control points and recorded the temporary benchmark locations with horizontal and vertical data for Project Record Documents. We provided an accurate alignment and level of the work, and corrected slope and curvatures as required. The project required site engineering to assure that the installation of all exterior electrical equipment and associated direct buried conduits, fencing and road bollards as shown were coordinated with existing utilities.
The project required a site security fence to withstand wind and an applied load of 350 lbs. between supports. The site security fence was maintained throughout the duration of the project. Upon completion, Meltech removed all equipment, fencing, and debris and restored the area to its original condition and repaired any site damage or other related damage. Meltech took all reasonable precautions to avoid damaging or injuring the existing structures and landscaping.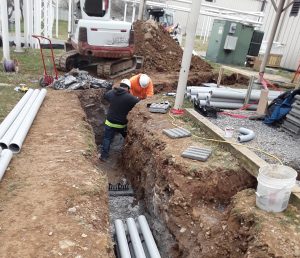 Short description: Leidos Biomedical Research Facilities Frederick National Laboratory for Cancer Research Building 1066 Electrical Upgrades at Fort Detrick in Frederick, Maryland Meltech completed this project for the Leidos Biomedical Research Inc. for the Frederick National Laboratory for Cancer Research in Frederick, Maryland. This project was for electrical upgrades to the Building 1066. Building 1066 was occupied […]