US Army Design Build Exterior Rehabilitation of Historic Buildings at Fort Belvoir in Fort Belvoir, Virginia
General Synopsis
This initial contract was for the design and historical rehabilitation of five (5) separate historic buildings located at Ft. Belvoir, VA. Buildings 212, 213, 219, 240 and 256 were rehabilitated in a manner consistent with the Secretary of the Interior's Standards and Guidelines for Rehabilitation. Work on this historic rehabilitation project included the replacement of storm windows, painting windows, tucks pointing, masonry repairs, brick replacement and power washing. The contract cost increase was due to the client adding two (2) additional buildings to the scope. Meltech received an outstanding rating on this project on this high-profile command interest project. Meltech self-performed approximately 30% of the work on this project including project management, supervision, QAQC, Safety, and general conditions, window installation, painting and power washing. The client was extremely satisfied with Meltech's work and added 2 additional buildings to the original scope of work.
Meltech provided 35%, 65%, and 95% design documents for the completion of all tasks.
Challenges that were successfully overcome included the fact that lead-based paint was presumed to be present on all buildings, so all loose and flaking paint had to be removed prior to any work being undertaken. Paint chips resulting from the removal work were treated as hazardous material and were disposed of by the client.
Further Details
Building 212 had a general scope of rehabilitation that included:
cleaning of the building exterior,

repair of damaged and failing masonry (including improvements to past improper repairs)

painting and repairs to wood elements such as windows and cornice, dormers and trim

foundation and concrete wall repairs including repair of all general cracking with injection grout

foundation preparation, priming and painting of the concrete foundation wall and porch to match surrounding structures,

painting of metal rails

Repairs to brick walls including

Removal of heavy bituminous staining and paint splatter from brick surfaces

Removal and repair of all extraneous penetrations which included pipes, nails, attachments and anchors

Provision of copper chimney cap to cover and seal uncapped chimney

Repointing and stabilization of brick chimney

Replacing poor and failing masonry repairs with brick and mortar

Repairs to windows and doors including reparation, priming and painting of all exterior wood doors, trim and associated transom
Building 213 was in a similar state and had similar needs to building 212 above with the addition of:
Repairs to a slate roof including:
Repair/replace/rehanging of all copper gutters and downspouts and installation of leaf guards

Repair of damaged downspouts and replacement with in-kind materials

Reconnection of all downspout as to subterranean drainage system

Installation of missing cast iron downspout boots
Porch, step and ramp repairs including caulking the junctures between steps, ramps, landings, and building foundations and adjacent sidewalks
Building 219 had originally been a theater and gymnasium and now featured administrative space in lieu of the gymnasium. The building had a complex footprint and employed two different roof types – a one story brick hyphen connecting to two two-story brick wings, with the hyphen terminating in a side gable roof with gable dormers. The repairs to this building were of similar type to buildings 212 and 213 above but required extra awareness of the roof geometry. The suite of repairs for this building included:
Cleaning (10,000 sf)

Foundation repairs

Wood cornice, eaves, siding, parapet, column, pediment, pilaster and trim repairs

Brick wall repairs including replacement of a number of damaged bricks, removal of all abandoned electrical conduit/pipe , repair of spalling masonry at door surround keystone

Concrete wall repairs

Window and wood repairs, similar to two buildings above, but including in addition replacement of failed glazing compound, repair and replacement of rotted wood as needed, provision of exterior storm windows with low-emission glass coatings and screens

Porch, step and ramp repairs

Site work

Roof repairs

Exterior lighting including repair and rewiring of historic lights and carriage lamps and demolition of existing security lights and conduit and replacement with new fixtures with interior wiring incorporating full cut-off and LED wall packs
Building 240 had a general scope of repair similar to the above buildings but required that stucco elements of design be addressed and work on a rear loading dock and main entrance façade be included. The suite of repairs for this building included:
Cleaning

Stucco, cornice, eaves, siding, parapet, column, pediment, pilaster and trim repairs, including repair, treatment and painting of a stucco tower

Brick wall repairs including full suite as in building 219 above plus verification and confirmation of pointing on an existing stone chimney cap

Concrete and precast repairs including suite of repairs as in building 219 plus repairing a concrete failure on a rear loading dock, repairing concrete cracking on a rear loading dock, and installing rubber bumpers on a rear-loading dock.

Window and wood repairs

Porch, step and ramp repairs

Site work

Roof repairs
Building 256 had a general scope of rehabilitation that included:
Cleaning

Foundation repairs

Wood cornice, eaves, siding, and trim repairs

Brick wall repairs similar to building 240 above also but including cleaning heavy dirt/organic/chemical staining

Window and wood repairs, similar to buildings 204 and 219 above, but including in addition
Replacing an existing steel door with a custom made replacement unit, frame and locking mechanism manufactured to fit in the existing opening and including all flashings, door sweeps, threshold and weather stripping,

Removing an existing double doors and frame and replacing with new steel doors, frame and locking mechanism, with all similar in detail to the historic entrance doors

Replacing a rotted/ rusting exterior door and frame with a replacement similar in historic detail with a four-paned window,

Restoring a fanlight window above a ceremonial entrance

Removal of a set historically inaccurate replacement windows

Replacement of a set of ordinary windows with historically sensitive steel hopper industrial windows,
Site work

Gable roof addition repairs

Exterior lighting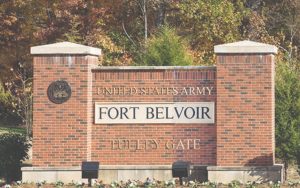 Short description: US Army Design Build Exterior Rehabilitation of Historic Buildings at Fort Belvoir in Fort Belvoir, Virginia General Synopsis This initial contract was for the design and historical rehabilitation of five (5) separate historic buildings located at Ft. Belvoir, VA. Buildings 212, 213, 219, 240 and 256 were rehabilitated in a manner consistent with the Secretary […]