Smithsonian Institution Renovate Education Offices at the Freer Gallery of Art and Arthur M. Sackler Gallery (Freer|Sackler) in Washington, DC
General Synopsis 
This project was for the renovation of the Education Offices located at the Smithsonian's Freer Gallery of Art (FGA) and Arthur M. Sackler Gallery (Freer|Sackler) in Washington, DC. 
The work included the demolition and renovation of current Education Offices located on the Second Floor Level below Grade. The demolition work included the removal of walls, doors and frames, carpeting, miscellaneous built-ins and finishes, lighting, mechanical diffuser and some MEP related equipment. The new work included the gypsum board and metal stud partitions, glazed aluminum framing and doors, a translucent feature wall, new carpeting, ceiling and lighting. The sprinkler, fire alarm, speaker and the mechanical systems were modified to work with the current layout. All the main lines and control systems remained. 
This work was completed in a fully occupied building. The affected areas were screened off and all construction activities were staged in a manner to be the least disruptive to the adjacent spaces. All egress paths remained open and in use for the building occupants. 
Further Details 
This project involved the following disciplines: 
Division 2 – Existing Conditions
Division 6 – Woods, Plastics and Composites
Division 7 – Thermal and Moisture Protection
Division 8 – Openings
Division 9 – Finishes
Division 11 – Equipment
Division 21- Fire Suppression
Division 23 – Heating, Ventilating and Air Conditioning
Division 26 – Electrical
Division 28 – Electronic Safety and Security
One project modification was issued for the Sacklers Archives Cold Storage renovation. The work was for the demolition to include the evacuation of the refrigerant from the cold storage equipment and compressors. Complete the disconnections and make safe dehumidifier and fan coil unit and remove equipment from site. Disconnect existing controls and make safe. The new work included the installation of a new rigid supply and return ductwork, 12×12 fire damper with access door, supply and return registers, fire stop penetrations and the insulation on new ductwork.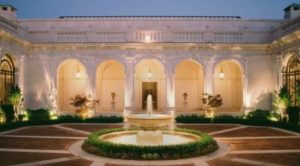 Short description: Smithsonian Institution Renovate Education Offices at the Freer Gallery of Art and Arthur M. Sackler Gallery (Freer|Sackler) in Washington, DC General Synopsis  This project was for the renovation of the Education Offices located at the Smithsonian's Freer Gallery of Art (FGA) and Arthur M. Sackler Gallery (Freer|Sackler) in Washington, DC.  The work included the demolition […]