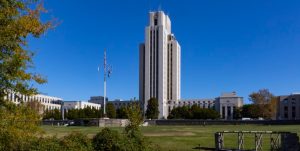 Description:
NAVFAC Roadway Improvements at the Walter Reed National Military Medical Center – Palmer Road, South of Grier Road
General Synopsis
Meltech completed this project for the improvement of the conditions at the Robert Brown Drive and Palmer Road South Intersections at Walter Reed National Military Medical Center (WRNMMC) Naval Support Activity Bethesda (NSAB) in Bethesda, Maryland. This project was for the installation of a changeable lane assignment sign and to use an existing median as a reversible lane between South Wood Road and Building 10 East Driveway. The work was also for a construction of one west bound lane between Robert Brown Drive and Building 10 East driveway. And the last part of the construction consisted of the cutting of trees and the relocation of north sidewalk. The project objective was to have a total of three travel lanes. Two lanes were to be constructed on Palmer Road South and one lane in the off-peak direction. Meltech became familiar with the project site including any vertical and horizontal conflicts with utilities, vents, valve covers, electrical boxes, manhole covers and drainage inlets. Meltech ensured that the design and execution of the project to provide smooth transitional grades.
Further Details
The construction was based on the DoD criteria, NAVFAC Design Manuals and Criteria, ASHRAE publication including ASHRAE / IESNA Standard 90.1 Energy Standard and 62.1 Ventilation Standard, Tri-Service CADD/GIS Technology Center Standards, standard engineering and architectural practice.
The Palmer Rd South was the major east-west connection located in the southern part of the campus. It runs between Gate 2 (South Gate) on Rockville Pike all the way to the east end of the campus when it turns into University Drive. The posted speed limit on this roadway is also 20 mph. There is no on-street parking along this roadway, and except for a central left turn lane on its segment between Wood Road and Robert Brown Drive, this roadway has a two lane cross section throughout its length. It is also grade separated with Palmer Road East and forms an overpass that connects the hospital area (western part) with the university area (eastern part) of the campus. The roadway width is about 25 feet west of Stokes Road and becomes 30 feet east of it.
Geotechnical Data
Meltech was responsible for providing the services of a geotechnical engineer to conduct any subsurface exploration, investigation, testing, and analysis that the DOR deems necessary for the design and construction of the proposed facility and site improvements. Our geotechnical engineer was be registered as a Geotechnical Engineer and experienced with soil conditions in the region. The Geotechnical Engineer prepared a report addressing any elements of the work requiring his services.  The report was submitted to the Contracting Officer accompanied by a letter from the DOR certifying that the Geotechnical Engineer had reviewed the construction documents and that the design reflects the recommendations of the geotechnical report.
The project also had certain historical planning and environmental controls and protection that required our project Architect/Engineer to prepare any necessary exhibits, to attend all required presentations and obtain all necessary approvals and permits from the Maryland Department of the Environment (MOE), the Maryland State Historic Preservation Office (SHPO), and the National Capital Planning Commission (NCPC).   Meltech updated the COR, in writing, on a biweekly basis concerning the status of each permit and approval.
Design Phase
The project design was completed in compliance with the design standards and codes found in the Unified Master Reference List (UMRL) on the Whole Building Design Guide at the Unified Facilities Guide Specification (UFGS) Website. The design was provided with professional registration and design signing and stamping per requirements of UFC 1-300-09N, Design Procedures.
In accordance with Executive Order 13423, NAVFAC Engineering & Construction Bulletin (ECB) 2008-01 and other pertinent directives, integrate sustainable principles into the design, development and construction of the project. The design was to reduce the total cost of ownership of the facility using a whole building, life-cycle approach. Meltech provided integrated sustainable design strategies and features to minimize the energy consumption of the facilities; conserve resources; minimize adverse effects to the environment; and improve occupant productivity, health, and comfort. Meltech provided narrative describing minimum sustainable characteristics of materials and systems used in project.
Site Improvements
Meltech provided site improvements as required to make a useable facility that meets functional and operational requirements, incorporating all applicable anti-terrorism, force protection and physical security requirements and blending into the existing environment.
The design of the pavements had to take special considerations to the anticipated traffic of cars and single unit trucks, with H2O loadings over the life of the project (20 years) as well as the existing conditions at the site. While working in and adjacent to existing pavements, Meltech matched existing adjacent finish elevation, materials, paving section and texture. We provide pavement design and pavement section materials in accordance with UFC 3-200-10N, Civil Engineering.
Roadways of bituminous pavement or rigid pavement were not authorized. Meltech provided curb and gutter to tie into the adjacent facilities. Meltech also provided resurfacing of existing pavement by slurry seal/bituminous surface treatments/bituminous overlays. We also provided any other roadway improvements such as bus stops, traffic signalization, markings, signage to match the existing, guardrails, wheel stops and bollards. Meltech provided a network of Portland cement concrete sidewalks, separated from, but connected to vehicular circulation systems, to all pedestrian and vehicle access.
All the site furnishings conformed to the Base Installation Appearance Plan (BIAP) and the Installation and Appearance Guide. The Director of Records found that there was no need for a storm water management facility however we did relocate an existing Stormwater management structure to open up the roadways.
Traffic Control
Meltech coordinated with the Facility Traffic Engineer and Safety Office, propose and obtain approval for traffic control measures that may be required in performance of the work required by the contract.
Performance Verification and Acceptance Testing
Subgrade Preparation: Proof rolling was performed in the presence of the Contracting Officer. Rutting or pumping of material was undercut as directed by the Contracting Officer and replaced with satisfactory soil materials as defined by the Geotechnical Engineer.

Base Course Performance Verification: Meltech performed visual performance verification. Surfaces were to smooth with no ruts, sloped or crowned to not pond water.

Bituminous Concrete Pavement Performance Verification: Meltech performed visual performance verification. Finished surface were to be uniform in texture and appearance, free of defects such as cracks and creases, and be sloped or crowned so as to not pond water.

Portland Cement Concrete Pavement Performance Verification: At a minimum, Meltech performed visual performance verification. Finished surface shall be uniform in texture and appearance, free of defects such as cracks and spalls, and be sloped or crowned so as to not pond water.

Concrete Joint Performance Verification: Joint sealer that fails to cure properly, or fails to bond to joint walls, or reverts to uncured state or fails in cohesion, or shows excessive air voids, blisters, or has surface defects, swells, or other deficiencies, or is not recessed within indicated tolerances shall be rejected.

 

Removed any rejected sealer, re-cleaned and resealed joints.
Substructure Foundation
Foundations were reinforced on concrete slabs-on-grade with continuous strip footings or isolated spread footings. Concrete slabs were not less than 4-inches in thickness and footings weren't less than 18 inches below the lowest adjacent grade.  Foundations were designed and constructed of reinforced concrete.  All design and construction complied with IBC and with applicable requirements in Section B Shell. 
Painting
Meltech provided a minimum of one prime coat and two finish coats. The prime coat was not be combined with texture or other coatings. Meltech sealed and primed all surfaces to cover underlying stains or discoloration that may affect finish paint. Finish coats provided full coverage of undercoats and substrates. Meltech provided Institutional Low Odor/Low VOC Latex paint or High Performance Architectural Latex systems as defined and approved by the MPI Systems Manual for the various substrates required to be painted. We also provide paint systems tested to "Detailed Performance Level" standard as defined by MPI. 
Site Earthwork
Meltech provided grading so the site would drain with smooth transitions to surround grading and storm drain inlets.  We adjusted the heights of existing drain inlets and manholes to provide smooth grades. Blasting for rock excavation was not permitted. All unsuitable material and surplus excavation became the property of Meltech and was disposed of off Government property.
Utilities
Provided temporary utilities which included any equipment needed for temporary utility tie-ins, permanent utility systems, telephone and data service, installed and certified back flow preventers on all connections to the potable water supply systems

Provided documentation that all life safety and fire protection features and systems were installed

Verified on-site utilities and had them marked out by a utility locator service prior to the start of construction. Existing piping, utilities, oil and gas lines, and underground obstructions of any type that were to remain were indicated in locations to be traversed by new piping, ducts, and other work provided herein, and such were not indicated or specified to be removed, the elevations of the existing utilities and obstructions were be determined before the new work was laid closer than the nearest manhole or other structure at which an adjustment in grade was made. 

Obtain required dig permits and notify the Contracting Officer 21 calendar days prior to any excavation. 

Utilities

 

located within concrete slabs are extremely difficult to identify due to the reinforcing steel used in the construction of these structures; whenever work involved concrete chipping, saw cutting, or core drilling, the existing utility location was coordinated with station utility departments in addition to a private locating service.

Outages to isolate utility systems were used in circumstances where utilities are unable to be positively identified. 
Warranty and Record Drawings and Operation & Maintenance (O&M) Data
The project required that Meltech warrant all materials and work for not less than one year after final acceptance of the work. Meltech agreed to provide remedial repair of previously installed work due to latent defect or unacceptable work performance, warrant the repaired work for one year after the completion and acceptance of the repair, if required.  For warranted items, Meltech furnished the manufacturers' original written warranty accompanied by a copy of the supplier's receipt showing place of purchase, telephone number of supplier, address, delivery order and ticket number. Meltech also warranted all woody plant materials for a period of one year from acceptance by the Government.  Meltech warranted all perennial plants and turf grass for one complete growing season. The Government accepted no responsibility for plant material maintenance during the warranty period except for periodic turf grass mowing. If the plant exhibits 25% or greater dieback, the plants were considered dead and were replaced in-kind and of the same size, with no additional cost to the Government. The replacement plants were maintained and warranted by Meltech for one additional complete growing season at no additional cost to the government. If the replacement plant died Meltech credited the Government the full installed price of the plant. All turf grass areas that fail to exhibit a healthy coverage of turf grass after one complete growing season was also re-seeded or re-sodded until a satisfactory turf grass area was established.
Meltech furnished the hard copies and electronic format for all the as-built and O&M information.  The record drawings incorporated all the changes to the approved final design.   We provided O&M data for as-built products, materials, and equipment,  including  data  sheets,  test  reports, warranties,  certificates,  list  of  spare  parts suppliers for all pieces of equipment, and approved construction submittals.
Budget Management
This project required a Budget Management System to be developed and maintained. The Budget Management System represented the major portions of the work. The purpose of budget management was to balance scope and value during critical project design decisions. The project manager updated the budget management status at regular intervals during design for review by and discussion with the COR. The final budget management summary corresponded with the final Schedule of Prices.