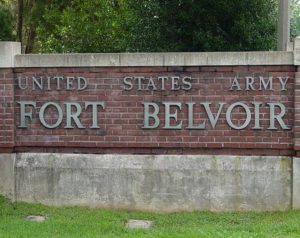 Description:
U.S. Army Mission and Installations Fort Belvoir Design Build Repair and Alterations to Building 1188 Military Clothing Store
Meltech completed this important project for the US Army Mission and Installations for the design build repair and alterations to Building 1188 at Fort Belvoir, Virginia. The Building 1188 serves as Fort Belvoir's Military Clothing Sales store. Building 1188 is about 6,700 sf. with 4,800 sf. allotted for three NEC conference rooms and supporting requirements throughout. The work included the design build for the soundproof walls from floor to slab to bottom of the roof deck separating the projected NEC against the DMV space. Meltech created (3) VCT rooms between 300-400 sf. each with walls and ceiling at STC-45 minimum. We completed the removal of all flooring; completed installation of new carpet; provided and installed solid wood door cores with noise control device hardware; painted the new and existing wall; provided CAC card readers at entrance doors; repaired HVAC equipment for new floor layout. Meltech completed the replacement of the door lock hardware and provided and installed two X09 locks and LKM 7002 plated and installed rough-ins for ICIDS alarm system. We installed rough-ins for conference call wiring and equipment. Meltech installed new window blinds, repaired existing and installing of ceiling tile and grid and also provided and installed a water fountain with water bottle refill. 
Meltech completed the design build of the new restroom facilities to accommodate two (single use) restrooms accordingly. We also completed the design build of a small kitchenette to accommodate 4-6 users. The Kitchenette included a stainless steel sink, faucet, base and top cabinets, and a natural stone countertop/backsplash. 
Project included the complete upgrade of the fire alarm system in its entirety. 
Meltech balanced the HVAC system and equipment accordingly for the new space layout. 
Meltech upgraded the electrical panels and breakers. We also replaced and installed new LED light fixtures and wiring and switches to match the new LEDS. 
Meltech provided and installed (2) cellphone lockers in the new hallway and completed the removal of any nonbearing walls for the new floor layout configuration.