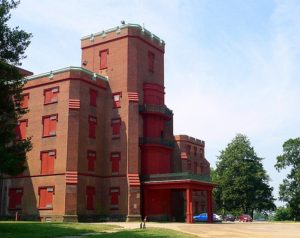 Description:
General Services Administration (GSA), DCO, DSCM & Base NCR Reconfiguration, United States Coast Guard (USCG) Munro Building 50 at the St. Elizabeth's Hospital in Washington, DC
Meltech completed this important project for the U.S. Coast Guard at the Douglas A. Munro Building 50 at the St. Elizabeth's Hospital in Washington, DC. 
The Saint Elizabeth's West Campus is the stewardship of the General Services Administration, Potomac Service Center. The entire St. Elizabeth's site (including both the West Campus and East Campus) has been designated a national historic landmark. The property is in the process of renovation and will become the headquarters for the Department of Homeland Security. This project was located at the USCG Bldg. 50 Munro Bldg. which is being redesigned to meet the minimum space requirements of the USCG. 
This project was for the USCG requirement for reorganization of the space as they have picked up an additional Flag Officer. In order to accommodate the square footage requirements for their positions USCG has to relocate the BNCR-HQ within the existing space. 
Meltech completed this project constructed for the Senior Supervisory position (with ranks of Command Master Chief, Commander, Captain, or GS-15) with the exception of the 3K16-02 in Suite 3K16-00. This office is for a Component Head Admiral. The project was completed during normal work hours in a fully occupied building. The project included upgrades to lighting, HVAC, receptacles, IT pathways, sprinkler and fire alarm system.