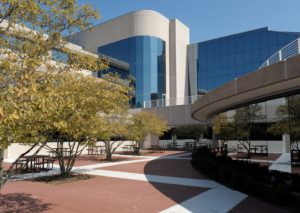 Description:
Federal Bureau of Investigations (FBI) Criminal Justice Information services (CJIS) Division Complex Campus Paving, Repair and Maintenance in Clarksburg, West Virginia 
Meltech completed this project for the Federal Bureau of Investigations (FBI) Criminal Justice Information Services (CJIS) Division Complex Campus Paving, Repair and Maintenance project in Clarksburg, West Virginia. 
This work was completed on the CJIS Campus. The campus location is on approximately 35 acres of asphalt pavement that includes parking areas, roadways, docks, access driveways and walking paths. The site pavement is original to its construction in 1993-1994. Multiple areas of exposed coarse aggregate with noticeable spider cracks throughout the wearing course were identified in this project for repair. The roadway from the East Gate to the Child Development Center (CDC) also had visible cracking along the cold joints where the original paving passes stopped and started. The shoulders along this road were eroded and also required restoration. Several drop inlets (drains) had identified failing concrete basins that required repair to continue proper drainage of the parking lots. The concrete damage posed safety concerns for the campus and required repairs in order to ensure safe activities in the area. 
Meltech developed a work plan and method of execution for the work in accordance with the design package. The work plan included a schedule, phasing plan, submittals, QC Plan, Traffic Control plan, Asphalt Testing plan and a Millings Disposal plan. Each plan submitted required approval prior to construction. The project also required several safety plans prior to start. Meltech management worked directly with our safety department to complete the Environmental Protection Plan, Accident and Prevention Plan (APP), Activity Hazard Analysis (AHA), Crane Critical Lift Plan with proof of qualification for crane operators, Indoor Air Quality Management Plan (IAQ), Construction Site Plan, Traffic Control plan, Waste Management Plan, 
The work included approximately 67,220 sq. yds. of repair work. Majority of the work was concentrated on the wearing course. The wearing coursed required 1-1/2" to 2" to be milled and overlaid with 1-1/2" to 2" of new asphalt. A total of 6 catch basins were identified for repairs. There was approximately 2460 SF of full depth repair and other miscellaneous repairs completed with the project package. 
Understanding the work identified in this project as asphalt repair, Meltech immediately recognized the need to complete this work prior to the start of winter. This project was completed for multiple parking lots, access drives, walking paths and other areas of occupancy. Being an occupied facility Meltech understood the work had to be coordinated with the daily activities of the campus. With these considerations in mind, Meltech submitted a fast-tracked schedule to complete the work in after hours, weekends and in double shift. This work was completed in half the time and included 2 additional modifications for an addition of shoulder stone and other miscellaneous items; for a contract completion of an entire 6 months early.